By: Express Web Desk | New Delhi |

Updated: November 8, 2018 2:50:14 pm
Diwali 2018: Priyanka Chopra, Anushka Sharma-Virat Kohli and Sonali Bendre celebrated the colour of lights.
Just like many other Indians, Bollywood celebrities too celebrated Diwali on Wednesday. Post the celebrations, many took to their social media accounts to wish their fans. While Amitabh Bachchan shared photos from the Lakshmi Puja he performed at his residence with Abhishek, Jaya, Aishwarya and Aaradhya, Akshay Kumar posted a photo from the Diwali celebrations at his office. Sonali Bendre also celebrated the festival in New York with husband Goldie Behl and son Ranvir.
Sharing the photos, Sonali wrote, "Diwali in New York happens much later than in Mumbai… Hence the late wish! It was quite an unconventional one… We didn't have Indian clothes, we had a small puja… But it was all heart.
Happy Diwali everyone! May this year bring you good health, wealth and prosperity… Hope you celebrated this festival with your family and friends, and hope you cherish every moment of happiness with them!" Sonali has been in New York for cancer treatment for quite some time now.
Sonali Bendre wished fans and well-wishers on the occasion of Diwali. (Photo: Sonali Bendre/Instagram)
Priyanka Chopra, who has been in a celebratory mode for quite some time now, flew back to India to celebrate Diwali with family. She too posted photos from the festivities with mother Madhu Chopra and brother Sidharth Chopra. "Happy Diwali. So good to be home to celebrate with my loved ones. I wish for the world to be bestowed with love, light and happiness. 💥✨," read the caption of the lovely pictures.
Aaradhya Bachchan performed Lakshmi Puja with mother Aishwarya Rai Bachchan and father Abhishek Bachchan. (Photo: Amitabh Bachchan/Instagram)

The Bachchan family celebrated the festival of Diwali at their residence. (Photo: Amitabh Bachchan/Instagram)

Amitabh Bachchan and Jaya Bachchan celebrate Diwali. (Photo: Amitabh Bachchan/Instagram)

Priyanka Chopra came to India to celebrate Diwali with her family. (Photo: Priyanka Chopra/Instagram)

"The mood is festive and happy, post the Diwali puja in the office today. Here's wishing you all a safe and very #HappyDiwali from us ✨✨✨," wrote Akshay Kumar along with the photo. (Photo: Akshay Kumar/Instagram)
Thugs of Hindostan actor Katrina Kaif got a picture clicked in the quintessential Diwali pose. She wished "love and light" for all. Anushka Sharma and Indian skipper Virat Kohli looked every bit gorgeous as they shared a photo from the Diwali celebration at their home. The Zero actor captioned the photo, "Happy Diwali from our home ✨ May you all find the light in you this Diwali …. 🕉️✨🙏"
Anushka Sharma and Virat Kohli's Diwali picture is winning the internet. (Photo: Anushka Sharma/Instagram)

Katrina Kaif wished Diwali to her many followers on Instagram. (Photo: Katrina Kaif/Instagram)
Here's how other Bollywood celebrities celebrated Diwali
Shahid Kapoor shared the photo on Instagram with the caption, "happy Diwali everyone. Hope you spent it with those who matter most." (Photo: Shahid Kapoor/Instagram)

Sonam Kapoor and Anand Ahuja celebrate Diwali. (Photo: Sonam Kapoor/Instagram)

Anand Ahuja shared this family photo on his Instagram account.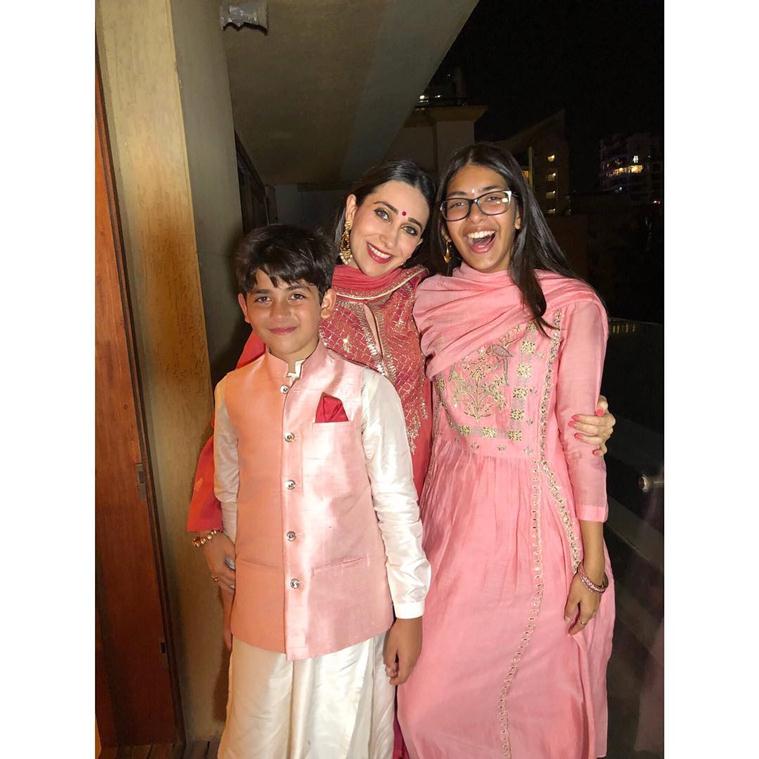 "Wishing you all love and laughter this Diwali 🌟🌟🌟 #family #mylife #myloves #myworld🌎 #happydiwali🎆," wrote Karisma Kapoor as she posted the photo with her children on Instagram.

Kajol and Ajay Devgn during Diwali celebration. (Photo: Kajol/Instagram)

Shamita Shetty shared this photo from her Diwali celebration with sister Shilpa Shetty. (Photo: Shamita Shetty/Instagram)

Malaika Arora and Amrita Arora rang in Diwali with parents. (Photo: Maliaka Arora/Instagram)
For all the latest Entertainment News, download Indian Express App
© IE Online Media Services Pvt Ltd