By: Express Web Desk | New Delhi |
Updated: May 16, 2017 8:43 pm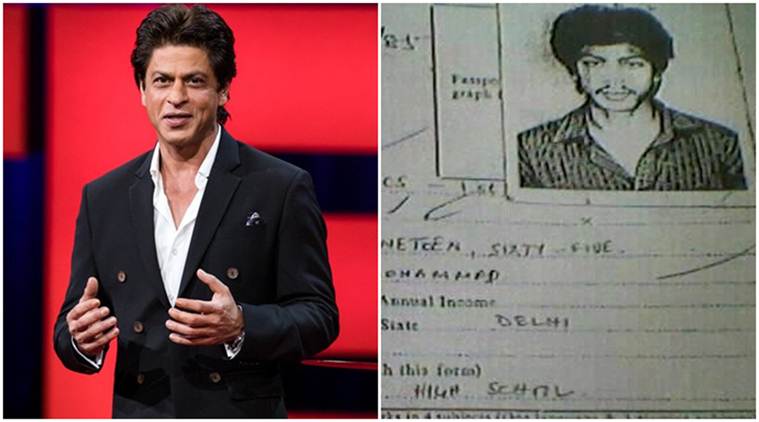 Shah Rukh Khan had scored 51 marks in English subject in his Hans Raj college admission form.
Delhi University Times recently shared Shah Rukh Khan's admission form for Hans Raj college and it has since gone viral, giving the portal a new-found identity in the face of Shah Rukh's stardom and the fact that he scored low in English.
The form was shared on DU Times's Facebook page where it received a lot of traction from students. Shah Rukh had scored 51 marks in English subject. Actor's low marks in English have gained the new significance, given how Shah Rukh comes across as a sharp, witty and articulate individual during his public speeches. The irony becomes more apparent now that actor just spoke during TED Talks in Vancouver.
This is not the first time that actor's admission form has surfaced online. A few months ago also Shah Rukh's admission form was circulation on social media. However, admin of DU online portal Milhaj Hussain confirmed the authenticity of form. "We shared it online to showcase that marks don't matter if you are hardworking enough and know your aim in life. And, who can be a better person to set an example than Shah Rukh Khan? Through our portal, we encourage students. Also, celebrity posts attract a lot of traffic and students tend to talk about them more. When it's the King of Bollywood, traffic is must," Milhaj told Hindustan Times.
Shah Rukh's form received mixed reactions from students on Facebook. One student wrote, "This should be made viral to highlight the link between English proficiency and grades." Another student wrote, "this proves that my English is better than shah rukh's …haha."
Also Read: Deepika Padukone at Cannes 2017: Will Deepika leave her mark at Cannes? Here's how her past choices have fared, see photos
Meanwhile, Shah Rukh's TED talk received a lot of accolades for actor's sheer amount of intelligence and his keen ability to reflect on his life and surroundings."I've learned that whatever moves you, whatever urges you to create, build, whatever keeps you from failing, whatever helps you survive, is perhaps the oldest and the simplest emotion is known to mankind, and that is love. You may use your power to build walls and keep people outside or you may use it to break barriers and welcome them in. You may use your faith to make people afraid and terrify them into submission. Or you can use it to give courage to people, so they rise to the greatest heights of enlightenment," the actor said.
For all the latest Entertainment News, download Indian Express App now
© IE Online Media Services Pvt Ltd